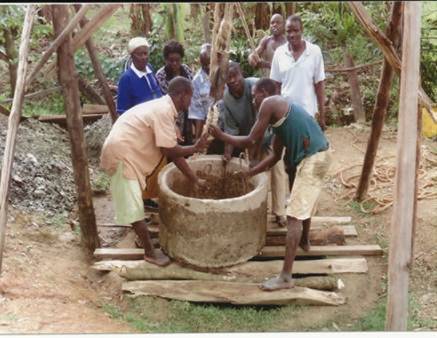 In the course of the last 6 months, Suitcases for Africa has installed four new wells and none has ever been as difficult as the John Jackson Memorial Well in Mukomari, Kenya.
The community is located on the rocky escarpment of the Great Rift Valley and rock became a very big hurdle for the well diggers.
Usually a well takes approximately 21 days to dig. This well took 6 months. Solid rock was encountered at 10 feet. The rock had to be blasted in a procedure known as parooting which would split the rock.
A man would then go down the hole and chisel out gravel sized pieces by hand. These pieces would be lifted up by bucket load, hand over hand. It was a very dangerous process. It is very cold and damp down in the narrow three foot diameter hole and standing in the cold water and working for four hours at a time can cause pneumonia. The nurse in the nearby dispensary found this to be the case for one very sick worker.
In all it took 3 different digging crews to complete the work as one after another gave up and left the job. Still the company did not give up and despite the odds they obtained the depth and a good water column. This ensured it would be a plentiful well for the community and the soon to be rebuilt medical dispensary it will serve.
We were fortunate to be there to see up close the heroic effort involved.
The engineer Stephen told us that only one young man had stayed the entire 6 months to work and dig this well showing up every day. We took his photo and thanked him. You can imagine our stunned surprise to learn his name was "Jackson"! We know that the family took this to their hearts and it made the well even that much more special.
The well is in loving memory of a very good man… Mr.John Jackson.